PRESENTING ADDIE
THE CHARACTERS
THE HOUSE WITHOUT A CHRISTMAS TREE
THE THANKSGIVING TREASURE
THE EASTER PROMISE
ADDIE AND THE KING OF HEARTS
GRANDMA'S RECIPES
RELATED LINKS
MISCELLANEOUS PHOTOS
FAN FICTION: "ADDIE AND THE WAR HERO"
FAN FICTION: "COLLEGE BOUND"

Warning: This page may contain spoilers.
Updated February 13, 2015, with news of The Easter Promise and Addie and the King of Hearts on DVD (see below!).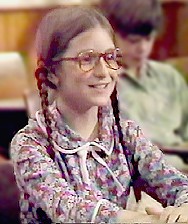 She loves to paint and draw, she's a good student and enjoys learning new words, She loves games and puzzles of all kinds, she's a natural leader but in many ways is very vulnerable, especially in believing she is loved. She isn't perfect: she's critical, impulsive, and often quick to come to judgment. In short, she's one of the most realistic children ever portrayed on television. She's Adelaide Mills, known to family and friends as "Addie."
Smart, spunky Addie Mills was introduced to television audiences in the Yuletide season of 1972 in the drama The House Without a Christmas Tree. Three subsequent movies followed (although the final "movie" is only an hour long).
The character of Addie Mills was based on the real-life experiences of Gail Rock, who grew up in a similar family environment in Valley, Nebraska, the real-life counterpart to the story setting of Clear River. Her original story and the subsequent Thanksgiving tale were adapted to the screen by Eleanor Perry, and Gail Rock and Alan Shayne did the remainder. The distinctive piano theme was composed by Arthur Rubenstein and the stories were directed by Paul Bogart (Joseph Hardy directed Addie and the King of Hearts) and produced by Alan Shayne.
Unfortunately, CBS filmed these stories on "soap opera" quality videotape rather than having the productions filmed, therefore many people consider them to look "cheap." They actually look as if they were filmed for a reality series and give you the impression of peeking into the Mills' home and other settings as events unfold. It would be nice to dream about them being run through an editing unit like an AVID machine, which was used to make the AMC series Remember WENN look as if it were filmed on old Technicolor stock from the 1940s. That would give them a "period" look that would be just perfect.
In any case, the stories are so excellent that this brief breach of artistic perfection can be overlooked!

The Characters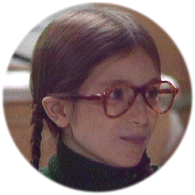 When we meet her, Adelaide Mills is a bright, lively precocious ten year old, born in 1936. She wears glasses, loves school and is a straight A student like her late mother, who was valedictorian of her high school class and won a silver cup when she graduated. Addie never knew her mother, who died when she was just a few weeks old (sometime, the story indicates, around or after Christmas, although it's never specifically stated; the novel further muddies the waters by saying Addie was a few months old), and has been raised by her nurturing grandmother and her sober, often grim father. She loves boyish games and especially horses (her favorite movie star is Roy Rogers, but she most often has her eye on his palomino stallion, Trigger), but Addie's favorite activities are painting and drawing. She plans to become an artist when she grows up and study in Paris. (She also wants to change her name, which she hates.) She is a very opinionated young lady and her favorite critical word is "dodo." When she likes something, it's "nifty."
The Minor Mystery of Addie's Birthdate: Addie is ten at the time of The House Without A Christmas Tree. The story indicates that her mother was able to celebrate her first Christmas, but died shortly thereafter. In the special James says Addie was "a few weeks old" for her first Christmas, the book "a few months old." In either case, judging from the gifts her mother made her: bib, booties and sweater, and a toy consisting of jingle bells strung on a ribbon and hung over the crib for Addie to kick, it is sensible to presume she was born in the fall, somewhere between September (book timeline) and November (television timeline)

In The Thanksgiving Treasure, Addie is eleven, which tallies with the television timeline. However, in The Easter Promise, taking place a mere six months later, Addie is now twelve, and in Addie and the King of Hearts, almost a year later, she is thirteen. This is a minor bobble; for Addie to be twelve in the spring of 1948, her birthday would have to be somewhere between Christmas and Valentine's Day. But that would have meant she was nearly a year old on her first Christmas, not "a few weeks" or "a few months" old and the gifts Helen made for her would be inappropriate for a child who would possibly be walking by then. So Addie probably was born some time in the fall and the age change was presumably made to make Addie older to fit the more mature themes of the final two specials.

I notice several reviews of the story say that James resents Addie because her mother died when she was born. This is not true, also per James' statements in the story; he says that Addie used to smile all the time as a baby, but Helen just said it was gas and would burp her. Babies start smiling at four to six weeks old. Helen died of pneumonia, not in childbirth.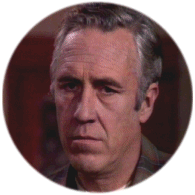 Addie's father is James Mills, a taciturn, thrifty Midwesterner. Given the timeline presented by The House Without a Christmas Tree novel, he is about 48 years old. Addie thinks he is handsome, which he is, in a rather bleak way. James was always a proud, serious man, but in the past ten years since his wife Helen died, he has been withdrawn and overly strict with his only child. Addie resembles Helen so much that sometimes it is hard for him to have her around and he seems occasionally baffled by her quicksilver personality. He operates a crane at the gravel pit for a living and insists Addie do well in school because he never finished high school. He and Helen married in 1926, when she was eighteen and he was about 28.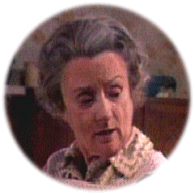 Grandma Mills (we learn her name is "Sarah" only later in the series) is a bulwark in Addie's life. She gives Addie the love and caresses that her son cannot seem to manage with his own child and encourages her in all her projects. Grandma is also very old-fashioned about Addie eating her breakfast and wearing long underwear during the cold months. She's also considered a bit of a character by the neighborhood children as she calls Addie with a police whistle and takes Addie's red wagon to market with her. (The books further elaborate on Grandma's eccentricities, including her habit of "skipping" pancakes from the frying pan to the plate with a spatula, which is only hinted at in The House Without a Christmas Tree.)
Carla Mae Carter is Addie's best friend who moved to Clear River earlier in the year (in the books it is two years earlier, but Carla Mae says in the opening scenes of House Without a Christmas Tree that the previous year the Carters had a taller tree at their house in Omaha). You don't receive a lot of information about her in the specials, but in the books we find out she is one of six children in a happy, messy home. Her brothers have electric trains the two girls like to play with. Carla Mae is basically Diana Barry to Addie's Anne Shirley; she's a quiet, practical girl, much less flamboyant than Addie; her one dream is to "wear a long white dress and a veil and be married."
Cora Sue is Addie's best friend in The Thanksgiving Treasure and The Easter Promise, and moved into the house across the street. The change is not explained in The Thanksgiving Treasure, and, indeed, if you read the books, which differ slightly from the filmed stories in small ways, Carla Mae remains Addie's friend rather than Cora Sue. Like Carla Mae, Cora Sue is a follower, not a leader. (Cora Sue is not present in Addie and the King of Hearts and no reference is made to her.)
Billy Wilde (spelled "Wilde" in the television credits but "Wild" in the books) is a schoolmate of Addie's who, she remarks in one story, had been around forever. They've always been in the same grade, played together when they were young, and have maintained a friendly rivalry as they grew older. He and Addie clearly like each other, although Addie professes to "despise" him and only likes his cowboy boots. Oddly, he's more likely to admit he likes her and indeed gives her a heart locket in the school Christmas gift exchange, which embarrasses her a great deal. Billy owns a grey horse named Cloudy.
Gloria Cott is a classmate of Addie's. Her family is rather poor and has numerous children. She has a new baby sister in The Thanksgiving Treasure.
Tanya Smithers is another classmate, a rather snooty one at that. Addie calls her "my worst friend in fifth grade." In the books it is emphasized that she likes ballet, but she talks about getting the lead role in a tap dancing exhibition in The Thanksgiving Treasure. The books also reveal that her father owns the gravel pit where James Mills works.
Miss Peggy Thompson is Addie's schoolteacher for both fifth and sixth grades. She's very attractive, strict but fair, and a good teacher, and the children adore her. She wears "sweet pea" perfume (Evening in Paris perfume in the books) and has naturally curly hair.

THE HOUSE WITHOUT A CHRISTMAS TREE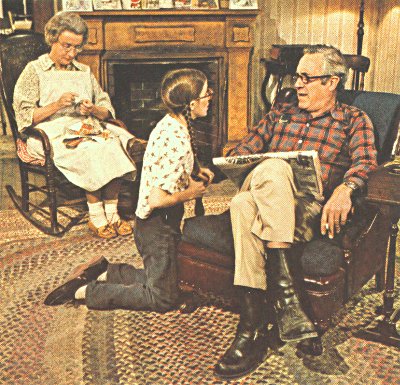 It is the holiday season of 1946 and once again James Mills refuses to have a Christmas tree in the house (he has eschewed one since Addie was born—due to depression over the death of his wife from pneumonia, but Addie dhas never been told that). While Addie adores her father, she cannot understand his parsimony nor his bitterness and longs for a beautiful Christmas tree like other families have to "make this house look happy." When he rebuffs her request for a Christmas tree yet again, she begins a campaign to encourage him to buy one. Then she wins the school Christmas tree in a guessing contest (having learned to figure odds from her dad), not knowing or understanding the uproar it will create when her father sees it in the house.
CAST
Addie Mills: Lisa Lucas
James Mills: Jason Robards
Grandma: Mildred Natwick
Carla Mae Carter: Alexa Kenin
Miss Thompson: Kathryn Walker
Mr. Brady (drugstore owner): Murray Westgate
Billy Wilde: Brady MacNamara
Gloria Cott: Gail Dunsome
Mrs. Cott: Maya Kenin Ryan
Narrator (Addie as an adult): Patricia Hamilton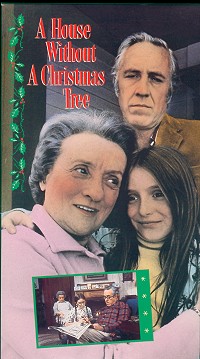 Original broadcast: December 3, 1972.
Paul Bogart won Outstanding Directorial Achievement in Specials from the Directors Guild of America for The House Without a Christmas Tree.
The House Without a Christmas Tree was an impressive debut for Lisa Lucas. She wonderfully portrays a child whose spirit is unquenched by her father's grief. However, Jason Robards' performance is stunning. While we feel pain for Addie in having to cope with his brusqueness, we also cannot totally condemn James for it. Despite his hard ways, one can still recognize the deep love he still holds for his late wife, his guilt over the wish he made after her death, and the dozens of little ways he shows Addie he cares for her—such as saving her a cupcake from his lunch every day—without actually expressing his feelings to her. He could have been portrayed as a soulless tyrant, but comes across as a deeply grieving man instead.
Many videotape catalogs and web sites list this story's title as being A House Without a Christmas Tree and some videotapes clearly have that title on them. However, The House Without A Christmas Tree is the definitive title of both the special and the novel.
The story was filmed in Uxbridge, Ontario, Canada, standing in for 1940s Nebraska; the real-life locations included the school and homes of the town. The set decorators and location filming gave the story a delightfully authentic period feel; you truly believe you are in a post-World War II home and community. The children in Addie's class are even shown beginning the school day by reciting the Pledge of Allegiance to the Flag without the 1956 "under God" addition, as it would have been then. The only thing that looks a bit "off" are Lisa Lucas' modern-style glasses, which are assumed to be her own, or else they would have used something styled more to the time. They so appropriately frame her face, however, that it is difficult to imagine Addie without those particular glasses.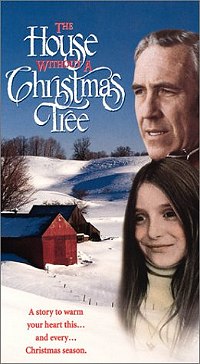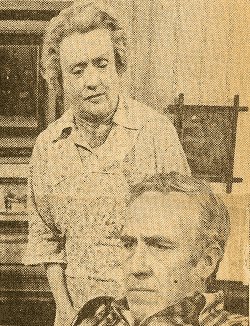 One of the distinctive touches to House Without a Christmas Tree and all the subsequent Addie Mills' stories was the fade to collage before a commercial break and a collage that dissolved into the opening scene after the break. These evocative collages were done by contemporary artist Norman Sunshine. With a few distinctive shapes and colors, Sunshine's collages captured the essence of the scenes; in House Without a Christmas Tree, for example, the somber mood where James drives away into the night in his truck is captured perfectly by the scraps of paper. Sunshine was later honored with an Emmy Award for his collage work in the Addie Mills specials.
The production of The House Without A Christmas Tree came after the success of The Homecoming: A Christmas Story and television's 1970s quest for family-oriented programming. Following the success of The Waltons in the fall of 1972, many other family-oriented programs premiered in September of 1973, but except for Little House on the Prairie, none of them were very popular or very good and were cancelled after a year. Addie's four stories, however, were quite popular for many years, due to the scriptwriting, acting, and production values. Also, in an era when female characters were just starting to emerge from the housewifely sexism and cutesy little girl syndrome of previous television seasons, Addie, who was a scholar and independent, was a strong role model for little girls.
Indeed, at one time this was considered by CBS as a weekly series.
There is a charming review of House Without a Christmas Tree on Amazon.com by "J. White," who tells about seeing Jason Robards on stage in Twelve Angry Men and meeting him at the stage door after the performance. When she complimented his work, he asked her which of his productions was her favorite. Her response was "The House Without a Christmas Tree," and he said that it was his as well.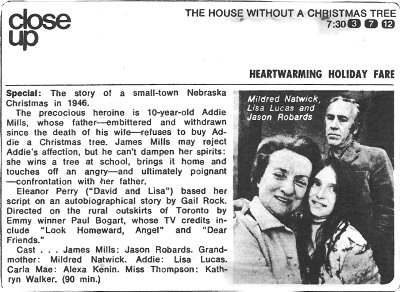 Actress Mildred Natwick passed away in 1994 and actor Jason Robards in 2000. Lisa Lucas did some television guest appearances along with her Addie Mills work (including roles on the highly rated Family Ties and the critically acclaimed miniseries The Adams Chronicles). According to Ken Beck of the Tennessean in a column on January 22, 2006, he sent an e-mail to Lisa Lucas, then age 44, and found out she recently did theater in Denver and South Florida. She's returned to school, studying journalism and communications with a minor in theater. "I teach drama to children," she added, "and hope to one day have a performing arts school. I am also a professional chef after six years in Paris and my own restaurant in New York. I spend a lot of time in New York where I grew up, and my husband and I are going to move to the mountains outside of Denver and ski, teach and cook." It sounds like she's leading a lively and interesting life!
Further research finds that Lisa studied at the famous Cordon Bleu in Paris and later opened Dorsay, a Mediterranean restaurant in New York City. Here's a 1999 review of the restaurant.
Sadly, Alexa Kenin died in 1985, killed by a fan who was stalking her. Kathryn Walker was most recently the narrator for the two PBS reality series, Frontier House and Colonial House.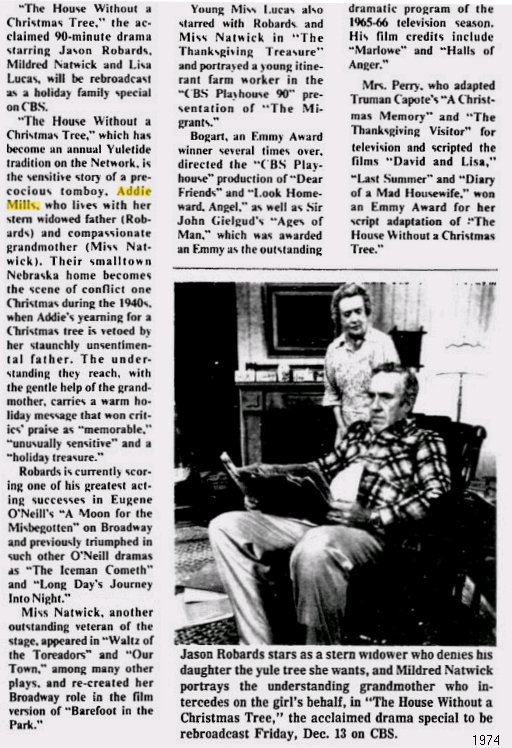 | | | |
| --- | --- | --- |
| | After years of being available only on VHS, The House Without a Christmas Tree was finally released on DVD in 2007. It is still available on VHS from Amazon.com and other video vendors. In November 2014, a dual DVD of House Without a Christmas Tree and its sequel The Thanksgiving Treasure, was released. While The Easter Promise was on VHS, Addie and the King of Hearts was not previously released to video. A DVD was just released of these two stories in February 2015. | |
RELATED PHOTOS
These look like publicity photos of Jason Robards and Lisa Lucas, not James and Addie—note the polyester clothing!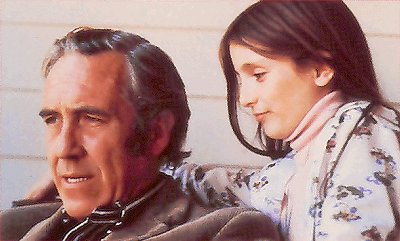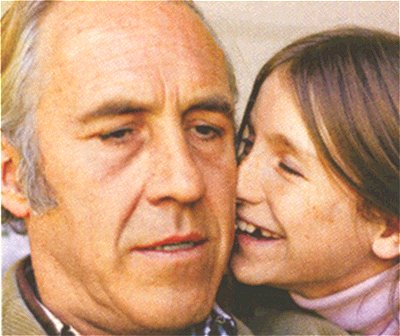 THE HOUSE

The house (in Canada) as seen in the special. It almost looks like a little one-room schoolhouse or a little church; all it needs is a bell tower.

The house in 2005 when it was put up for sale. As you can see, the windows and the siding have been replaced (including the cool arched window over the door), and the chimney appears gone. The trees have also grown quite a bit! (Thanks to the correspondent who sent me this!)

A more-recent Google Maps view of the house in fall. I'm glad the owners kept the overhang. (Thanks to Clay for cluing me in where it was located.)
THE NOVEL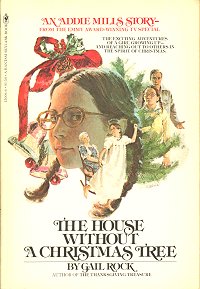 The House Without a Christmas Tree was published by Alfred A. Knopf in a hardback edition and subsequently in a paperback Bantam Skylark edition. A condensation of the story appeared in McCall's in 1974. Addie's lively narration makes the book as enthralling as the television story, and adds many delightful details to the story. We learn more about Grandma's eccentricies, which are only touched on in the television story when Addie fights with Jimmy Walsh after he calls Grandma "a character." In the book Grandma wears wildly patched clothing and moccassins. She loves to copy Bible verses onto pieces of paper and leaves them around the house as reminders; she also cuts interesting clippings out of the newspaper and keeps them. We also see more of Carla Mae's home, a happy collection of loving parents, young children, and a "fat Scottie named Minnie," and can understand why Addie loves visiting there.
Small details are also different. Miss Thompson's first name is Sylvia in the book rather than Peggy. In the television story, Addie gives Tanya Smithers very babyish-looking gloves in bright colors; in the book, they are "icky brown old lady" gloves. In the television story, the girls accompanying Addie and Carla Mae to look for Miss Thompson's gift are June and Amy. In the book, one of the girls is Tanya Smithers.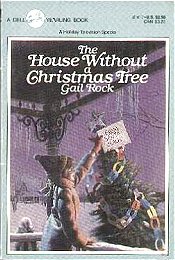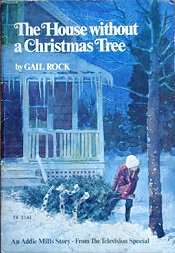 The structure of the story is also slightly different in the book. The scene where Addie shows Carla Mae the photo album is not in the book; Addie talks about the pictures in the narrative instead. Also, the ending is reversed: in the television story James brings home the tree and the story ends with the school Christmas pageant. In the book, the pageant happens right after the climactic tree confrontation and James brings the tree home to conclude the novel. Both versions "work" fine.
The beautifully detailed black and white pencil illustrations are by Charles C. Gehm. Gehm's drawings of the characters superficially resemble the actors enough for viewers to recall the television presentation, yet give them identities of their own so that they are Addie and not Lisa Lucas, James and not Jason Robards, etc. The illustration in the hall of the school after the fight is particularly good.
THE THANKSGIVING TREASURE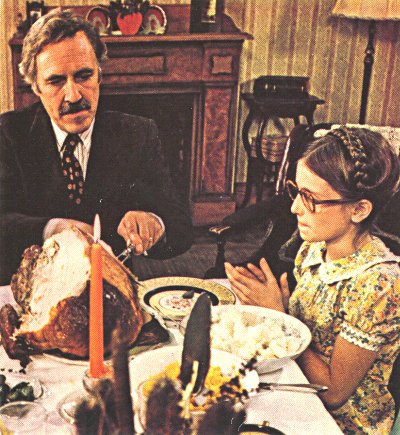 While biking at the edge of town looking for cattails and weeds for a fall bouquet, Addie is entranced by a beautiful pinto horse she nicknames "Marblecake." Unfortunately the horse, whose real name is "Treasure," belongs to Walter Rehnquist, a cranky old codger who lives alone on the rundown farm—and worse yet, her dad hates Rehnquist because the elderly man never finished paying for a pond James had dug for him. A few days later Addie takes her history lesson about Thanksgiving to heart: unable to talk her dad into "making friends with his enemies" by inviting Rehnquist to dinner, she sneaks portions of dinner away and serves the cantankerous, incredulous man dinner at his house instead. Rehnquist, ineffectually criticizing her as a "bossy kid," lets her care for Treasure and secretly begins to enjoy her visits, until the day Addie discovers him sick.
CAST
Addie Mills: Lisa Lucas
James Mills: Jason Robards
Grandma: Mildred Natwick
Cora Sue Carter: Franny Michel
Walter Rehnquist: Barnard Hughes
Miss Thompson: Kathryn Walker
Billy Wilde: Brady MacNamara Uncle Will: Larry Reynolds
Aunt Nora: Kay Hawtrey
Aaron Burkhart: Cec Linder
Henry: David Stambaugh
Narrator (Addie as an adult): Patricia Hamilton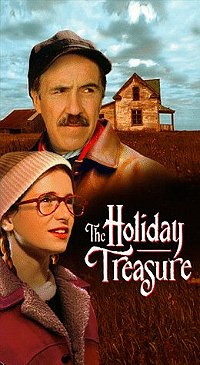 Original broadcast: November 18, 1973.
When CBS released this story to video it was renamed The Holiday Treasure so it could be sold with the Christmas tapes.
Rolling farmland around Uxbridge, ON, once again "stood in" for Nebraska. It is shown off to great advantage in the bleak November landscape scenes where Addie and Cora Sue bicycle out of town and again on the scenes filmed at Rehnquist's farm. Again, the period dressing is excellently done. The era is clearly delineated by the radio play that the children rehearse, complete with sound effects.
In this story Cora Sue becomes Addie's best friend; there is no explanation for the change of character, just that her family has moved across the street from Addie, who is thankful for it. Cora Sue is played by Franny Michel, who was, IMHO, the definitive Patricia Apple in the first season of the CBS series Apple's Way. Kristy McNichol took over the role in the second season and no attempt at all was made to have her behave like Michel's Patricia, who was studious, serious, and loved horses (in fact, she acquired a horse in one episode of the series)—a character very much like Addie Mills!
At the beginning of the story, Addie and her father are bantering about his moustache, which Addie doesn't like and wants him to shave off. Jason Robards had grown the moustache after a car accident; it covered scars from surgery on his upper lip. The lines were used to explain why James suddenly had a moustache.
As revealed in the Gail Rock article linked below, Lisa Lucas broke her leg during the filming of The Thanksgiving Treasure after falling from the horse. Several shots had to be filmed around the accident: the girl in the funeral scene is a stand in, and Addie is sitting on a stool during the whole laundry scene, presumably because Lucas was still in a cast. (In the opening scene, Lucas also looks like she is limping.) "Treasure" was included in the story at Lucas' request.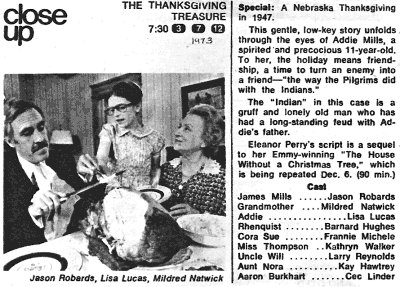 Uncle Will and his family are mentioned several times in the different stories, but this is the only time we actually see them. We never learn his last name; he may be Addie's mother's brother since James and Grandma are friendly with the family but don't appear to be particularly close and also because he and his wife volunteered to take in Addie after her mother died. Also, Cousin Henry asks Addie why she doesn't ask "your grandmother" to put up the food for her. So Will (or Nora) must be from Helen's side of the family since Grandma is not Henry's grandmother as well.
The new DVD does answer one of my questions: in the credits to the new DVD release of The Thanksgiving Treasure, you find out this poem is taken from a 1966 compilation Thanksgiving Feast and Festival, published by Abington Press:
Thanksgiving
Catherine Barry

The splendors of the harvest
Fills the coffers of the land,
And grateful hearts give thanks
From all the bounty from God's hand.
But let us hold this thought
Before November days depart,
Not just for now,
Thanksgiving is a season of the heart.
This story also introduces Addie and Cora Sue's friendship oath:
Faithful friends through thick and thin,
If we lose or if we win,
Signed in blood and sealed in spit,
Our loyalty will never quit.
Cross your heart and hope to die,
Stick a needle in your eye.
Vow to keep the secret code,
Or turn into an ugly toad!
Addie would probably be chagrined but interested to know that one of the riddles she is exchanging with Cora Sue is incorrect. She asks "Which weighs more, a pound of gold or a pound of feathers?" to which Cora Sue answers, "A pound of gold, naturally." Addie responds with "...neither: 'a pound is a pound the world 'round.'" A pound of gold actually weighs less: feathers are measured via avoirdupois weight, in which a pound is sixteen ounces. Gold is measured in troy weight, where twelve ounces equal a pound. Now if what was being measured against the feathers were stones, meat, or anything else not precious metals, the riddle would be correct (but it would certainly be a lot of feathers either way!).
Barnard Hughes has had an illustrious stage career, appeared in such movies as Midnight Cowboy and starred in the television series Doc.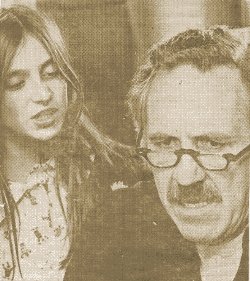 Remember the store/gas station where James stops for gas and Rhenquist rear-ends him? It's now the Seagrave General Store.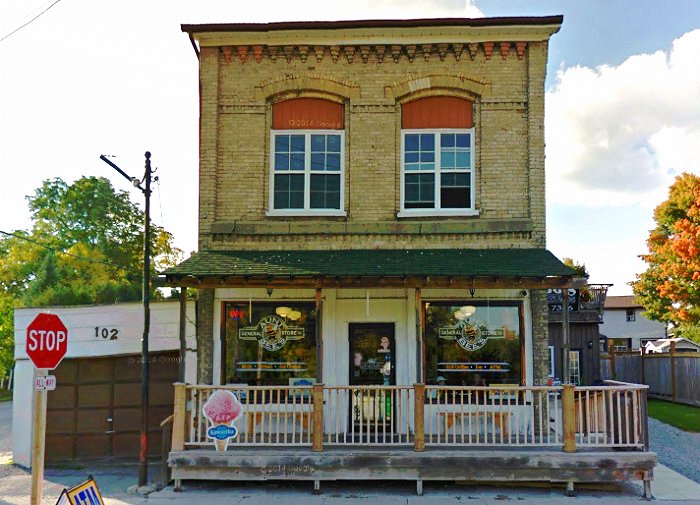 THE NOVEL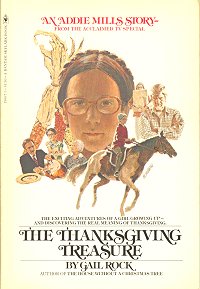 The Thanksgiving Treasure was published by Alfred A. Knopf in a hardback edition and subsequently in a paperback Bantam Skylark edition. It was serialized in Redbook in November of 1974. The illustrator is again Charles C. Gehm with his wonderful pencil sketches. The last sketch, of Addie riding Treasure behind the truck with the town of Clear River in the distance, is particularly beautiful. Once again, the engaging narration gives us many more details of Addie's life than the special could give us: Addie's "icky brick" colored bike that is faster than all the others, Addie's solution to the hedges between her house and her best friend's, and the reason for the bright red color of James' truck, plus wonderful descriptions of the countryside.
The main difference between the novel and the special is that Addie's best friend is still Carla Mae, and remains so in all of the novels.
THE EASTER PROMISE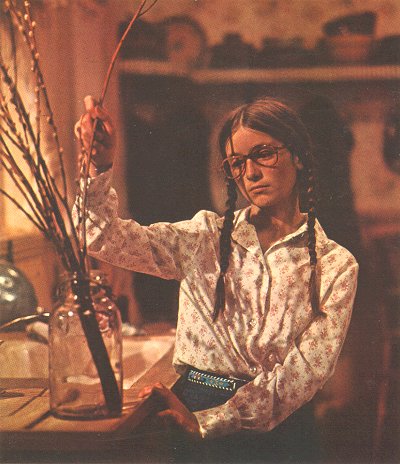 Addie and her friends, designing dresses for a school homemaking class spring style show, are thrilled to discover that Broadway actress Constance Payne, neé Constance Gunderson, a Clear River native who left home many years earlier, has returned to town. When they visit her house to get her autograph, Addie, who's told the girls that Constance and her dad are old high school friends, not only impulsively asks her to judge their style show, but invites her to dinner. Constance accepts both invitations, but appears ill at ease at dinner and keeps asking for wine. When she finally shows up at the style show, she appears to be drunk. A little disturbed, but undeterred, Addie talks Constance into giving the girls acting lessons; the first turns out fabulously but on the second visit it is very apparent Constance is intoxicated. Disillusioned, Addie wants to abandon Constance, but Grandma insists one cannot abandon friends because they have come upon hard times.
CAST
Addie Mills: Lisa Lucas
James Mills: Jason Robards
Grandma (Sarah Mills): Mildred Natwick
Cora Sue Carter: Franny Michel
Linda Cole: Lori Ann Rutherford
Terry Sloan: Vicki Schreck
Constance Payne: Jean Simmons
Ruth Coyne: Elizabeth Wilson
Narrator (Addie as an adult): Patricia Hamilton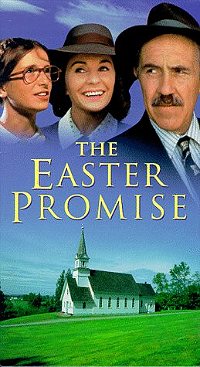 Original broadcast: March 26, 1975.
It's in this story we find out Grandma's first name, Sarah, and also the age she was when Helen Mills died, 62. So she is age 73 or 74 in this story.
One can see Addie's tastes are beginning to change as she gets older, in particular her interest in the style show (although she still prefers Roy Rogers). Her blue-and-white rickrack trimmed dress is very memorable--and very Addie!
James' startlingly red truck (which Addie explains about in the novel The Thanksgiving Treasure and says James never liked) is a blue-grey in this outing; apparently he did something about the hated paint job!
Terry takes ballet lessons, which Tanya Smithers also did in the first two stories. Perhaps Terry is a rewritten version of Tanya.
This third Addie Mills story was filmed in Hollywood so that Jean Simmons, who was appearing in a play, could work in both the special and on stage at the same time. Unfortunately, the story thus relies heavily on backlot sets rather than the more authentic-looking Canadian locations of the first two tales. You do not see the front or side of the house as in House Without a Christmas Tree or Thanksgiving Treasure and Clear River looks very different, much larger than previously portrayed in House and very clearly a set.
Timeline Bobbles: The narration indicates that it is Easter 1947, which would mean it takes place before "Thanksgiving Treasure" and four months after "House Without a Christmas Tree," but the Style Show project is for sixth grade and Addie is in fifth grade in "Christmas Tree." Unless Addie and all her friends skipped a grade after Christmas, this is impossible. The book corrects the year to 1948. And of course Addie says in the narrative of "Thanksgiving Treasure" that she kept Treasure for several years afterward, but the horse is not mentioned in either of the sequels, even as being offscreen.

The timeline sets up that the story begins on Easter vacation, yet it spans over a two-week period. Easter vacation is traditionally only one week. We don't know which day of the week Addie finds out Constance is in town, but Constance comes to dinner on Saturday, and the school Style Show is four days later, on Wednesday, also the day the girls are preparing Easter eggs. Addie returns Constance's things on Thursday and the girls have their first lesson. The second lesson turns out badly on Friday. James invites Constance home on Saturday (why is James working on Saturday? Overtime?). But it looks like Addie is still home the next week (unless she is drawing Constance's picture after school), Constance stays "a couple of days," then comes downstairs on the next Saturday and they go to church the next day for Easter Sunday. I think there's a weekend missing in there somewhere or Clear River schools have a very long Easter vacation!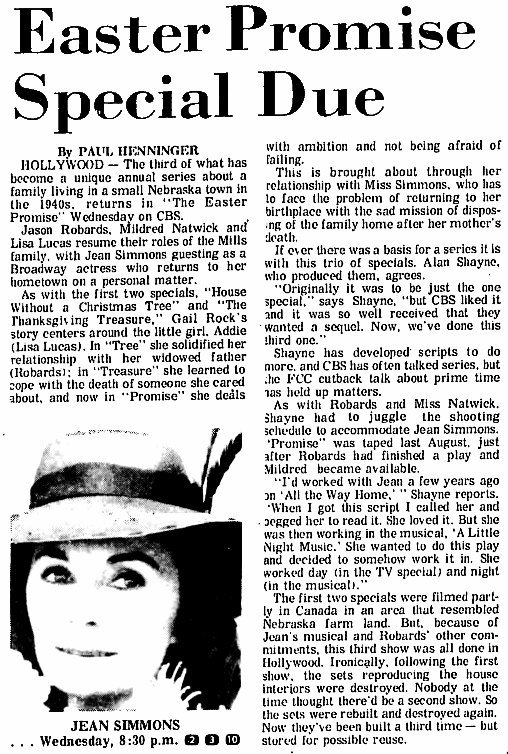 One newspaper review and another review, both from 1975, of The Easter Promise.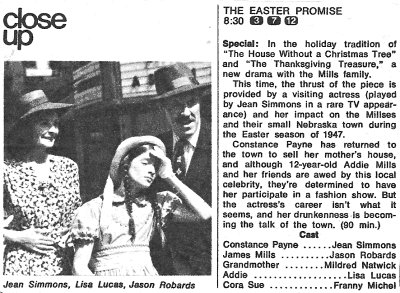 British movie actress Jean Simmons appeared in such acclaimed films as Great Expectations, Hamlet with Sir Laurence Olivier, and Elmer Gantry. Character actress Elizabeth Wilson played the wife of Barnard Hughes from Thanksgiving Treasure in the series Doc. Lori Rutherford played Andy Griffith's daughter in The New Andy Griffith Show.
THE NOVEL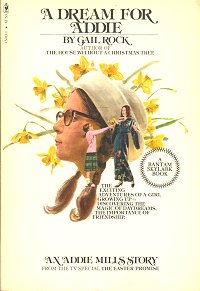 The novel version of the story is entitled A Dream for Addie and was published by Alfred A. Knopf in a hardback edition and subsequently in a paperback Bantam Skylark edition. Charles C. Gehm returned as illustrator.
In the television story, the two classmates participating in the style show with Addie and Cora Sue are Linda and Terry. In the novel, as previously stated, Carla Mae is still Addie's best friend and the girls involved in the show are Tanya Smithers and Gloria Cott. In the book the contest is not for school, but for a 4-H project. The novel corrects the timeline problem from the television special and takes place at Easter of 1948. (The timeline problem with Easter vacation and exactly on what days things take place still remain. Oh, well.)
| | |
| --- | --- |
| | The Easter Promise, once only available on VHS tape, is now out on DVD in combination with Addie and the King of Hearts, which was not released previously. |
ADDIE AND THE KING OF HEARTS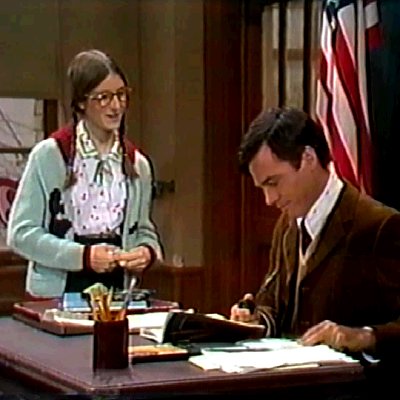 It is now 1949 and the seventh grade class ets the shock of their lives when the substitute teacher taking over for Miss Collins (who will be away two weeks on her honeymoon; she will be married on Valentine's Day) turns out to be male—but the one who is the most affected is 14-year-old Addie, who finds herself smitten with handsome Mr. Davenport, who also loves art and painting and can converse in French, a heady mix to Addie, who finds herself dreaming of romance with him. In the meantime she is coping with the news that her dad has been seeing brassy, bottle-blonde Irene Davis, widowed owner of the town beauty salon. Addie is appalled...but it's not the end of the surprises before the annual Valentines Day dance is over.
CAST
Addie Mills: Lisa Lucas
James Mills: Jason Robards
Grandma: Mildred Natwick
Miss Collins: Hope Alexander Willis
Danny Billings: Michael Morgan
Douglas Davenport: Richard Hatch
Irene Davis: Diane Ladd
Kathleen Tate: Christina Hart
Terry Sloan: Vicki Schreck
Sally: Patti Cohoon
Dorothy: Lark Geib
Jimmy: Todd Miller
Addie's Classmates: Robin Harlan, Chuck Sullivant, Rusty Keller and Michael Lookinland
Narrator (Addie as an adult): Patricia Hamilton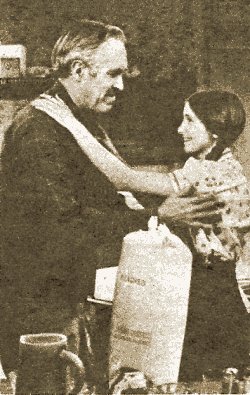 Original broadcast: February 25, 1976.
Unlike the other Addie Mills stories, this story was only one hour.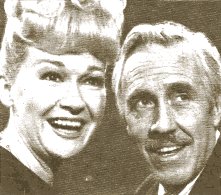 Although Terry Sloan carries over from The Easter Promise, the regulars from the original stories are absent, including Cora Sue (probably because Franny Michel had left Hollywood after her father was transferred in his job) as well as Billy Wild (presumably because the last two specials were filmed totally in Hollywood and Brady MacNamara was in Canada). Disconcertingly, instead of recasting the Billy character, the entirely new character of Danny Billings was created.
We learn in this story that besides being class valedictorian, Helen Mills was also a cheerleader and head of the English Club, and, according to Irene, who was a year behind Helen in school, was the best Charleston dancer in school. Also: the Mills family attends the Baptist church, while Irene goes to the Methodist church.
Grandma says she was "a farm girl" when she met her husband.
Norman Sunshine won an Emmy Award for Outstanding Achievement in Graphic Design and Title Sequences for Addie and the King of Hearts.
Diane Ladd is probably best known for her role of Flo in the film Alice Doesn't Live Here Any More. She is the mother of actress Laura Dern. Actor Richard Hatch is most well-known for his starring role in the 1970s science-fiction series Battlestar Galactica and his involvement in the new "reboot" series by the same name. Interestingly enough, young actress Patti Cohoon, who has a small part as Addie's classmate Sally, played opposite Franny Michel (Cora Sue) for one year on the series Apple's Way; Patti was Cathy Apple, older sister to Franny's Patricia.


A FURTHER GALLERY FROM
ADDIE AND THE KING OF HEARTS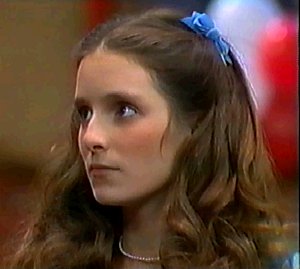 THE NOVEL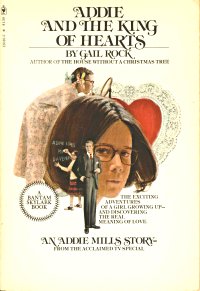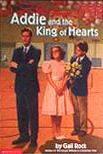 Addie and the King of Hearts was published by Alfred A. Knopf in a hardback edition and subsequently in a paperback Bantam Skylark edition.
The book fleshes out much of the story this time because of the truncated broadcast length, occasionally altering the order in which events happened or when lines are stated, and included is Grandma's story of how she met Addie's grandfather. Mr. Davenport is blond in the novel, rather than dark haired like Richard Hatch, and is described as resembling Alan Ladd. Also, Addie is stated as being thirteen in the book (from the timeline set up by The House Without a Christmas Tree, she should only be twelve, but thirteen fits the timeline set in The Easter Promise). In the book, Addie learns about James and Irene from something she overhears at home, rather than from her classmates as she does in the television version. Oddly, the most affecting scene in the television production, where Addie goes to Irene Davis for her permanent and is treated with stories about her mother (as well as Irene talking about her husband), is omitted in the book. Irene also has a slightly different history in the book: she is one of two hairdressers in town, where, in the television story, she is unique; she has also just moved back to Clear River after living most of her adult life in Florida in the television version (probably to explain Ladd's noticable Southern accent). Unfortunately, illustrator Charles C. Gehm did not return for a fourth Addie book. The perfectly serviceable but unremarkable line illustrations are done by Mike Ludlow, who is also responsible for the collage-type covers on the original versions of the paperbacks.
As much as I don't want to inject my own opinions into this page, each time I watch Addie and the King of Hearts I am disappointed that the four-movie sequence didn't end on a better note. Everything in the story is by-the-numbers: Addie's jealousy, her crush, James' involvement with a woman totally unlike his first wife, the handsome teacher who encourages Addie but turns out to be engaged. No one seems to have his/her heart in the performance, especially Robards, who was so magnificent as the grieving man of the first story. Ladd's performance is the most lively, but slightly overdone. I wish they had used the story the way the book arranged it, except for including Irene's story of her past from the television version, and recast Cora Sue and Billy Wild (especially since Addie seemed at a loss without a best friend to bounce her emotions off). Even the sets look cheap; if you notice, the door to the living room is always half-closed because they never rebuilt the actual room.

GRANDMA'S RECIPES
 • Gingerbread Men • 
1/2 cup butter or margarine
1/2 cup sugar
1/4 teaspoon salt
1 egg
1/2 cup molasses
1 tablespoon vinegar
3 cups all-purpose flour
3/4 teaspoon baking soda
2 teaspoons ground ginger
1/2 teaspoon ground cinnamon
Cream margarine, sugar, and salt together. Stir in the wet ingredients: egg, molasses and vinegar. Add remaining ingredients. Chill 3-4 hours. Roll out 1/8" thick on lightly floured board and cut out dough with gingerbread man-shaped cooking cutter. Place 1 inch apart on a greased cookie sheet. Bake 375°F about 8 minutes. Cool before removing from cookie sheets.
 • Famous Chestnut Dressing • 
1 1/2 pound fresh, shelled chestnuts
1/3 cup butter
salt to taste
pepper to taste
1 cup dry bread crumbs
1/2 cup milk, scalded
boiling water (enough to cover chestnuts)
Pour boiling water over the chestnuts and let stand 5 minutes; remove skin with fingers and a knife. Cook nuts about 1/2 hour in boiling salted water. Drain, mash and add butter and seasonings. Pour milk over the bread crumbs and add to nut mixture. Mix well, stuff bird.
 • Cranberry Sauce With Orange Peel • 
1 12oz bag of fresh or frozen cranberries
1 cup fresh orange juice
1 tsp minced fresh ginger
1 tsp minced orange zest
1/4 tsp cinnamon
Bring orange juice, ginger, zest and cinnamon to a boil on high heat in a medium saucepan. Rinse cranberries and add once liquid is boiling. Reduce heat to medium and cook uncovered for about 10 minutes. Remove from heat and cool.
 • Chewy Oatmeal Cookies • 
Warning: you should mix the cookies the night before making them so they will come out properly.
1 cup granulated sugar
1 cup shortening
1 cup raisins
1 cup water
2 eggs
2 cups self-rising flour
1 1/2 cups quick oats
1/4 teaspoon baking soda
Cream sugar and shortening together by hand.
Meanwhile cook raisins in the water until there are 5 tablespoons of water remaining. Cool.
Mix flour, baking soda, oats and raisins together. Add eggs and the 5 tablespoons of water from the cooked raisins; mix well. Cover and put batter in refrigerator overnight.
The next day, drop teaspoons of the batter onto a greased cookie sheet. Bake approximately 13 minutes at 350 degrees F. Grease the pan before dropping each batch of cookies onto the sheet. Cool completely before storing.
Makes approximately 60 cookies.
 • Marble Cake • 
1 ounce unsweetened chocolate, melted and cooled
1 3/4 cup sifted cake flour
2 1/4 teaspoons baking powder
3/4 teaspoon salt
1/3 cup vegetable oil
3/4 cup milk
1 teaspoon vanilla
1 egg
1 cup sugar
Sift together the flour, baking powder, and salt. Stir in oil, milk and vanilla and beat until batter is very smooth. In another bowl, beat the eggs until thick and foamy. Gradually add sugar and continue beating until well blended. Fold egg and sugar mixture thoroughly into batter. Drizzle chocolate over the batter then cut through batter several times to give a marbled appearance. Pour into a greased and floured 13x9x2-inch baking pan. Bake at 325° for 35 to 45 minutes. Cool then frost with chocolate frosting.

RELATED LINKS
Gail Rock article from the 2003 Fremont Tribune (Direct Link)

A short biography of Gail Rock from 900 Famous Nebraskans:
Roberta Gail Rock (1940- ) lived at Valley, Douglas County, and Lincoln. Author, screenwriter, journalist, best known as writer of four children's novels with main character growing up in 1940s Nebraska, which were published in Canada, England, Italy, and the U.S.; all were originally stories for television specials, with The House without a Christmas Tree recipient of the Christopher Award for 1972 and Emmy Award for 1973; wrote scripts for the Miss Universe Company, and was film and television critic for Women's Wear Daily and other venues. Consult Omaha Sunday World Herald Magazine of the Midlands, December 12, 1976, pp. 8-10 and Something about the Author, Vol 32 (Gale, 1983) 151 and Contemporary Authors, Vol 201 (Gale, 2002) 365.

 Shirley's lovely site for The Homecoming, a television contemporary of House Without a Christmas Tree
 If you like Addie, you might enjoy reading about Molly, one of the American Girls; they are about the same age in the same era, although Molly is World War II-oriented and lives in a warm, multi-child household

MISCELLANEOUS PHOTOS
Not sure if everyone can see this link, but 2021 photo of Lisa Lucas.
THE ADAMS CHRONICLES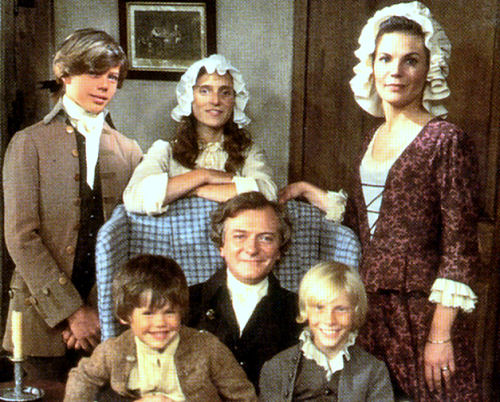 Lisa Lucas (center, rear) as Abigail Adams II, "Nabby" (later Abigail Adams Smith),
the daughter of second President John Adams and his wife Abigail, in the
1976 miniseries The Adams Chronicles. Abigail Adams is played in earlier
episodes by a familiar face: Kathryn Walker, "Miss Thompson." Lisa plays the younger
Nabby in parts two and three of the series; Nabby as an adult is portrayed by Katharine
Houghton (Katharine Hepburn's niece).
The Adams Chronicles is available on DVD.
A Few More Adams Chronicles Screencaps
Nabby reads to her mother.
 
Nabby and her brothers, Charles, Tommy, and John Quincy.
 



Nabby and her mother




Nabby plays piano for her parents.
 

Kathryn Walker as Abigail Adams.
 
FAMILY TIES: "Sherry Baby"
Lisa Lucas played Sherry Marshall, a snooty sorority girl, in a 1982 episode of Family Ties, in which Sherry tells Mallory Keaton that she will rush her for the sorority if Mallory will get her a date with her brother Alex.
| | |
| --- | --- |
| | Lisa Lucas as Sherry Marshall. |
| | Lisa Lucas as Sherry Marshall. |
| | Lisa Lucas as Sherry Marshall. |
ELLERY QUEEN: TOO MANY SUSPECTS
featuring Franny Michel
In 1974, Franny Michel (Cora Sue) had a small role in the pilot film to the 1975 Ellery Queen television series, which took place in 1947, the same year as The Thanksgiving Treasure. She played Ellery's cousin Penny, whom Ellery is supposed to be taking care of for the day—they've gone to the zoo, and are supposed to go to the museum and shopping at Macy's, and during the brief scene, are shown at the skating rink at Rockefeller Center. Penny comes off as a rather worldly-wise version of Addie Mills; she reads voraciously and goes to a school for gifted children. The glasses she is wearing are a lot more "period" than Addie's, but the resemblance is uncanny.
Penny on the skating rink and with Cousin Ellery, played by Jim Hutton.
 
Penny points out to Ellery that they're being followed; slurping on a straw.
 
Franny Michel in APPLE'S WAY
In this 2-season series created by The Waltons creator Earl Hamner Jr, George Apple quits his high-powered California job to move his family (wife and four children) back to his hometown of Appleton, Iowa, where he plans to continue work as an architect. The family lives in the Apple family home, a grist mill, with George's father. Franny Michel played the third child and younger daughter, Patricia, who loved books and school just like Addie Mills; she also had an affinity for horses and gets her own, Bronco, in a midseason episode. Unfortunately, Franny left acting after her father's job took him away from Hollywood. Kristy McNicol was recast as Patricia, who abruptly became a sports-loving character with no affinity for books or school.
| | |
| --- | --- |
| | Patricia Apple could always be found with her nose in a good book. |
| | Patricia in the episode where she gets her horse, Bronco (I believe it's "The Zoo.") |
| | Patricia, also from the episode with Bronco. |
| | Patricia from the first season opening credits, near the millpond with the inevitable book. |
| | Patricia from the first season opening credits, putting her book down when her dad rings the bell. |

The House Without a Christmas Tree and the other Addie Mills stories are the property of Gail Rock, CBS Television, and Fox Home Video. This is a fan page. No copyright infringment is intended. Any opinions stated are my own and do not reflect the thoughts of the creators or producers.

Send me an e-mail
---